Aminite supply ST Fiber Optic Patch Cords, include ST ST,ST LC,ST SC,ST FC,ST MU,ST MTRJ,ST E2000 fiber patch cables and fiber optic jumpers,custom design types include single mode 9/125,multimode 50/125,multimode 62.5/125, simplex,duplex Fiber Optic Patch Cords, etc.
Tags:
fiber jumpers
,
Fiber Patch Cable
,
st connector
,
st fiber cable
,
st patch cord
General Details
We offers high quality ST fiber patch cords and ST fiber patch cables;
All of the fiber optic jumpers 100% pass 3D interferometer test.
All Fiber Optic Connector are design according to IEC standard; Insertion loss ≤0.15dB;
Different cable diameter option: 1.6mm, 1.8mm, 2.0mm, 2.4mm, and 2.8mm are available.
OFS, Draka, Corning, YOFC optical fiber available.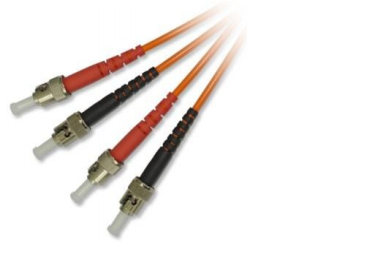 ST fiber patch cord connector has a bayonet-style housing and a long spring-loaded ferrule hold the fiber. They are available in both multimode or singlemode fiber patch cable versions. Horizontally mounted simplex and duplex adapters are available with metal or plastic housing, with a choice of phosphor bronze or zirconia split sleeve. The ST fiber patch cable is one of the older generations of connector, but is still widely used for multimode networks, including LANs for buildings and campuses.
Application
Telecommunication System
Testing Facility
CATV System
Long-haul Telecommunication
LAN System
Features
PC,UPC,APC polishing available
High Return Loss
Low Insertion Loss
High Reliability and Stability
Available for single mode / multimode and simplex / duplex
0.9mm ,2.0mm,3.0mm diameter cable available
Compliance
Compliant with : IEC-61754-20
Compliant with : Tecordia-GR-326-CORE
Compliant with : RoHS
Specification
Fiber Mode
SM

(G652D/G657A1/G657A2)

MM

(OM1/OM2/OM3/OM3/OM4)

Connector Type
ST Fiber Optic Patch Cord
Diameter (mm)
0.9mm / 1.8mm/ 2.0mm / 3.0mm…
End-face Finishing
PC
UPC
APC
PC
Insertion Loss (dB)
≤0.30
≤0.30
≤0.30
≤0.30
Return Loss (dB)
≥45
≥50
≥60
≥35
Exchangeability (dB)
≤0.20
Repeatability (dB)
≤0.20
Operating Temperature(℃)
-40 ~ + 75
Storage Temperature (℃)
-40 ~ + 85
Operating Wavelength(um)
1310,1550
850
Cable material
PVC, LSZH
Note: Contact our engineers for the parameter of high precision patchcords.
Cable
Lemvigh-Müller Normal
0.9mm
1.8mm
2.0mm
3.0mm
SM
White
Yellow
MM
White
Orange
OM3
Aqua
OM4
Violet
Note:
Ⅰ. All cable are LSZH. PVC or other material for option.
Ⅱ. 12 colors would be available. (Blue, Orange, Green, Brown, Grey, White, Red, Black, Yellow, Violet, Pink, Aqua)
Ⅲ. The other OD requirement could be discussed.
Types